OUR ENDLESS AISLES SITE IS NOW LIVE! LEARN MORE HERE
Thanks to all of the retailers and vendors who have provided us with valuable feedback since our announcement. We received great questions about the work we're doing to help our retailers compete through access to technology and delivery tools. While there's a lot of work to be done between now and the launch of Endless Aisles at SuperZoo this summer, we will address any questions that you have along  the way. We hope you will find the information below helpful and that you'll reach out to us if you have any additional questions.
---
ENDLESS AISLES… WHAT IS IT?
Endless Aisles is a technology platform which will allow any local independent retailer to sell and deliver thousands of items to their customers' doorsteps. Often these are items that retailers don't carry in store, so retailers will be able to complete transactions from right behind their store counter (Special Orders) or through their existing website (Website Integration).
Special Orders are something retailers are already accustomed to fulfilling for their customers. The Endless Aisles platform will greatly enhance the selection of products available for immediate purchase and delivery to the consumer's doorstep.
Website Integration is what our retailers are most excited about.  The ability to integrate their current eCommerce website into the Endless Aisles platform will allow their customers the convenience of shopping how they want to shop.  Based on the feedback we have received from retailers, we are taking the necessary steps to integrate Endless Aisles into the Shopify platform at launch.  We will update everyone as we add other platforms.
---
Sometimes she prefers to have her food delivered. Your store should profit from the sale!

Delight the consumer by special ordering any products that you currently do not carry in your store.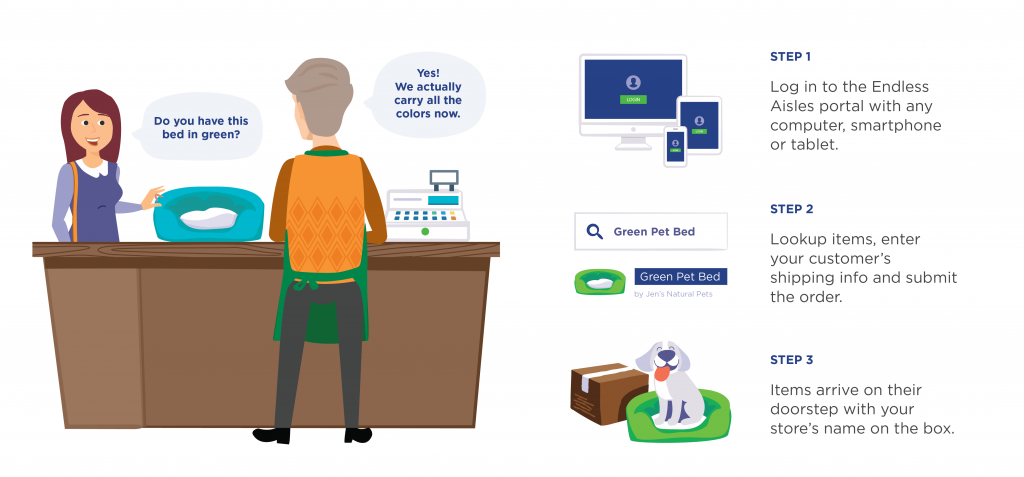 FEATURES & BENEFITS
Free access to technology for all current Phillips' retailers in good standing.
Sell thousands of additional products without physically stocking them in your store.
Conveniently ship orders directly to your customer's doorsteps with your store name on the label in a plain box, while taking advantage of scale rates for pick, pack & shipping.
Effortlessly keep track of your customer's buying behavior and info – you own the data, GUARANTEED in writing in our terms & conditions.
Access to images and descriptions of all products available through Endless Aisles.
Kick-off & Rollout at SuperZoo!
---
DETAILS COMING SOON
Collecting customer payment & POS Integration
Retail pricing on endless aisle items – We're balancing your ability to set your own prices with the effort involved in product setup and brand rules around MAP.
Access to products not currently sourced by Phillips
In-store pickup capabilities
Customer Service Concerns (returns, refunds, damages, expired product, incorrect shipments)
Real Time Inventory
Marketing Opportunities

[gravityform id="5″ title="true" description="true"]